See on Scoop.it – Sciences & Arts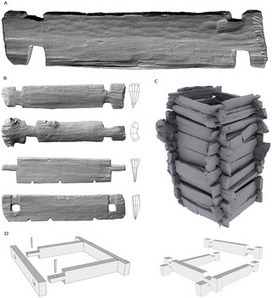 The European Neolithization ~6000−4000 BC represents a pivotal change in human history when farming spread and the mobile style of life of the hunter-foragers was superseded by the agrarian culture.
Permanent settlement structures and agricultural production systems required fundamental innovations in technology, subsistence, and resource utilization. Motivation, course, and timing of this transformation, however, remain debatable.
Here we present annually resolved and absolutely dated dendroarchaeological information from four wooden water wells of the early Neolithic period that were excavated in Eastern Germany. A total of 151 oak timbers preserved in a waterlogged environment were dated between 5469 and 5098 BC and reveal unexpectedly refined carpentry skills.
The recently discovered water wells enable for the first time a detailed insight into the earliest wood architecture and display the technological capabilities of humans ~7000 years ago. The timbered well constructions made of old oak trees feature an unopened tree-ring archive from which annually resolved and absolutely dated environmental data can be culled.
Our results question the principle of continuous evolutionary development in prehistoric technology, and contradict the common belief that metal was necessary for complex timber constructions. Early Neolithic craftsmanship now suggests that the first farmers were also the first carpenters.
Citation: Tegel W, Elburg R, Hakelberg D, Stäuble H, Büntgen U (2012) Early Neolithic Water Wells Reveal the World's Oldest Wood Architecture. PLoS ONE 7(12): e51374. doi:10.1371/journal.pone.0051374
See on www.plosone.org